Havre de Grace Waterfront Condos
For anyone looking to combine a small town lifestyle with a waterfront experience, the condominiums lining the Havre de Grace shoreline are worth exploring. There's a great deal of diversity among Havre de Grace condominiums. Whether your looking for a full time residence or a weekend/seasonal getaway there's going to be an affordable Havre de Grace condo that's perfect for you.
I've learned through experience – a lifestyle choice is the reason most people buy a house or condo in Havre de Grace. This is especially true for those who aren't from the town originally. I haven't always lived in Havre de Grace. After we first visited the town, my wife and I found ourselves looking for excuses to return often. Havre de Grace is known for its shops, restaurants, and the many events it hosts each year. There's seemingly always something to do. We decided to sample the Havre de Grace lifestyle with the purchase of a waterfront condo for summer use. As it became harder and harder to leave, we decided to call this place our home and to raise our son here. We have no regrets!
Havre de Grace has several condominium communities situated along its waterfront:
Seneca Point;
Canvasback Cove;
Heron Harbor;

and Bayou Condos.
There's a community of waterfront town homes named Log Pond which are not condos. The community has an active Homeowner Association.
Each waterfront condominium community has a unique personality that resonates with certain potential purchasers. All are within walking distance parks and the heart of town where the shops and restaurants are found.
Canvasback Cove, for example, is popular with boaters because many of the condos come with deeded boat slips located in front of the condos. In fact, some of the buildings in Canvasback Cove have a second indoor staircase leading to the boat slips. Its a nice touch that has a beachy feel! There is also a well-kept community pool that sits on the waters edge.
In contrast, Bayou Condo units have no direct water access, but sit high on a hill with the most incredible views of the Chesapeake Bay. Before being converted to residential condo units, the building was once the site of the Bayou Hotel, a favorite place to stay for celebrities and well-to-do types when Havre de Grace was home to a notorious horse racing track known as The Graw. Ironically, the building was later used by the Catholic Church as a senior home for women.
All the condominiums located along the Havre de Grace waterfront have an easterly perspective offering spectacular views of the sunrise. Imagine waking up to a world class view like this every morning.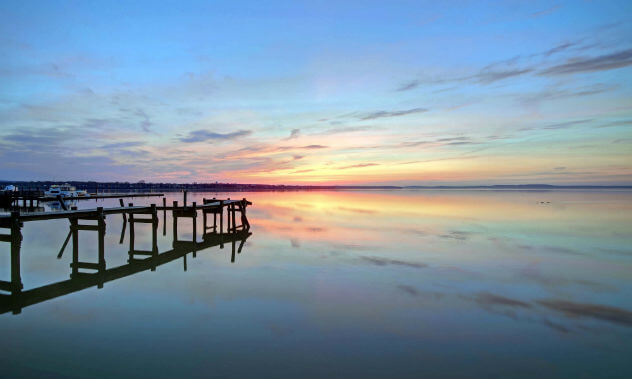 Give me a call to learn more about Havre de Grace Waterfront Condos for Sale. Having lived in one for years, I can offer insights based on experience.
If you own a Havre de Grace Waterfront Condo and are thinking about selling, reach out for a free market analysis to learn how much your condo will sell for in today's market.
About Integrity Real Estate
We are small, aggressive and independent. We can cater to your individual real estate needs in ways that large real estate franchises cant even contemplate.
Most importantly, Integrity Real Estate is local with an office located at 903A St. John Street, Havre de Grace, Md 21078.
Ed Rybczynski
410-218-6533
edrybczynski@gmail.com
Related post: